As of 1/10/2020, it's a new day for FXG CSP's.
You may recall we've talked about TRANSFORMING your Lifestyle Business into a

Transportation Compan
y for the past several years.
FXG's announcement of the new Financial Health Assessment added a new, critically important component for how they keep score on your business performance, and your value to them.
Engaging a third party, RapidRatings, to examine your financial health, then reporting those findings to FXG will create a measurement (number) that will become just as important as your daily service - if not more so.
As a CSP, you should understand the significance of this announcement and the reasoning behind why it will be so crucial going forward.
Let's take a look at what is going on here...
Why A Financial Assessment?
Why won't simply measuring your service satisfy FXG? Isn't that all they need to know?
Well, in the past, yes. It's been Service At Any (Your) Cost.

That will no longer be the case.
FDX is being forced to evolve its business model to compete in the quickly changing transportation industry and being the Low-Cost Provider Of eCommerce Transportation Services. This means shifting volume and relying on its stable of Contracted Service Providers (who must also evolve their business models) more than ever before.
This explains why CSP's are now facing surges in eCommerce growth, plus:
Low-end LTL (Large Packages...and things)
FedEx Express Volume (coming where possible)
Additional Smart-Post
Even More To Come
CSP's are the low-cost providers of transportation services in the industry, and obviously a pivotal component in the many changes FDX is planning as it executes its own long-term transformation and growth strategy.
In order for FDX to weather its Wall Street woes and eventually thrive, they'll need to be scrutinizing the "company they keep" (aka, Transportation Companies) in their network.
Poorly operating and financially weak service providers threaten their low cost eCommerce strategy. Comprehensive financial examinations can, and will identify poor operational practices that are the root causes of sub-standard operating margins.

FDX can no longer afford to rely on CSP's exhibiting signs of future financial default risks as growth-stress is placed on them. Clearly, CSP's who are both financially healthy and operationally strong will be the only ones capable of leading the mother-ship out of the woods and to the promised land.
It's important to note: Financial risk is NOT measured by inbound local service levels achieved. Running 99%+ daily service will no longer be the only Key Performance Indicator (KPI) used to determine the probability of continued contract negotiations and renewals.
How Is This Going To Work?
Prior to your upcoming re-negotiation, you may be asked via your message center to provide the third-party vendor, Rapid Ratings, with the following:
Balance Sheet
Cash flow statement for the two (2) most recent annual periods and, if available, the most recent interim period
NAICS or SIC code.
If you choose not to cooperate, you may lose your exclusive negotiation period for a new ISP Agreement.
RapidRatings will analyze your data, then produce a score between 0 and 100 they'll share with FXG.

The score will indicate efficiency levels and expected long-term performance. Low scores (perhaps 40 and under) predict
unsustainable financial stress (from growth and decaying overall revenue per stop settlement) on a CSP's operation. The default risk increases to the point that confidence in its survival is doubtful.
So Is This What The ISP Was About?
At the risk of (again) being called an alarmist, it should be realized that the ability to dispatch poor performers has been remedied with the several "outs" created in the new ISP agreement.
Note the timing of the Financial Health Assessment announcement. It came immediately at the beginning of the year after the ISP transition was completely implemented. This was not accidental and apparently has been eagerly anticipated as the ISP implementation schedule was accelerated a few years ago.
As many people know, we have been evangelizing the notion of a switch to a new
outlook and way of doing business as an FXG CSP for years.
Now, the most significant change coming from FXG is here.
The ability to take a look at your financials (via third-party) will expose the truth about the health of your operation.
The scores will bring to light poor financial health caused by poor operational practices.

Unfortunately, some current CSP's will possess neither the financial nor operational ability to handle the rapid growth coming from the new FDX business model. FXG will be implementing a workable strategy to facilitate the exit of operationally and financially challenged operators.
Proprietary interest in a work areas is now a thing of the past, and as a result, the ISP agreement provides FXG a greater ability to "thin the herd."
We have all witnessed the elimination of the 1 to 5 route operators. We fear something similar will happen as the operationally and financially challenged are escorted to the door.
And by the way, an early analysis indicates significant cash reserves while helpful, do not necessarily lead to a passing grade. Only the ability to consistently generate expected operating margins leads to sustainable financial health as defined by the assessment.
Should You Be Worried? - What About My Business Value?
If you don't keep up with, understand and execute standard operational efficiencies, or your financial Key Performance Indicators (KPI's), then yes, it's time to worry.

We have helped many contractors improve their financial health through correct operational training and practice monitoring. We can help you, too.
Financial results cannot be quickly and easily corrected. You can't rent a truck or put another person on the road to fix the problem or clean up a mess. Achieving financial health takes an entire business regiment that must be sustained over time.
As many of you know, we are fond of saying that you must have solid systems and processes in place to be successful. Once you do, you can expect healthy business results that demonstrate sound business practices and financial management.
The bad news is buying an app, or reading Facebook for advice, won't change your financial health.
Your Financial Health Rating and the Core Health Score (you should get familiar with these phrases) will provide a clear view into your real operational ability and financial results.
Efficient, productive operations along with smart resource capacity utilization naturally lead to good financial health. That's what Rapid Ratings will measure, and that is what FXG will be looking for.
Now for the good news, and actually, it really is pretty good.
Investors recognize the value of FXG's ability to provide solid, steady cash flow - which is something that troubles the overall transportation industry.

If you can navigate your way into being a productive, efficient Transportation Company that is both operationally and financially healthy, and has an FXG contract at its core as a customer, then you will have an extremely desirable, valuable company commanding significantly above-market multiples.
Yes, there is a pot of gold at the end of the transportation rainbow, if you do what it takes to get there!
We Can Help You Get There
Our staff, including a former CFO and a CPA, along with literally 100's of years
of FXG experience have reviewed the sample reporting from Rapid Ratings.
If you are unfamiliar with terms such as:
Assets, Liabilities & EBITDA
Operating Profit, Margins, Cash From Operations
Efficiency, Performance and Default Risk
Short, Medium and Long Term Outlook
Return On Capital Employed
Various Financial Ratios
Capital Structure Efficiency
Leverage, Liquidity, Earnings Performance,
then it is time to become familiar. Unlike "Inbound Local Service,'' many of these financial health measures are much tougher to calculate and understand.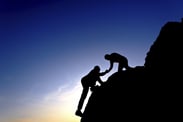 Most everyone has been programmed to know their previous day's "service." But what about your "Operating Ratio"?
Again, as most of you know, we have been teaching sound business practices leading to increased business values for many years.
You can learn to implement sound business systems and processes similar to those that other successful Transportation Companies have adopted.
Just ask these people whom we helped achieve financial success.
What Should
You

Do?

We have created a financial "pre-assessment" identifying both strengths and

weaknesses in your financial picture.
We have studied the evaluation company and their assessments. Plus, we maintain an extensive knowledge base including thousands of negotiations. Experience has provided us an understanding of the underlying budgeting methodology used to formulate settlement offers.
Your accountant may be helpful, but many of them are not transportation experts; therefore, they are not familiar with applying your financial situation to the specifics looked at in the assessment. They will not be familiar with the various operating practices contributing to financial results.
Our unique insight can more effectively improve your financial health.
We can administer the pre-assessment, then help you change the operational systems and processes needed to make significant financial gains leading to a positive Financial Health Assessment.