In October 2019, James Sheban, an FXG Contractor, reached out to eTruckBiz about an urgent problem. His company, Sheban Express, had recently failed its VEDR audit. He needed expert guidance to correct the situation. And he knew that his company may lose its contract if the audit wasn't quickly addressed.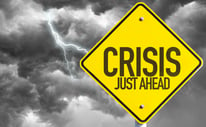 He spoke to Bob Tiell. Bob had been assisting James' team with ongoing safety training lessons. Bob is a former FXG manager who now works for eTruck as a business coach. He is also educated in VEDR systems and handling a failed audit.
Bob had spent the previous six weeks coaching James' managers and drivers about their lack of consistency in completing ongoing safety lessons. He'd sent texts and emails, plus made phone calls from his office in Lexington, KY, to each driver. Despite his efforts, the net effect had only achieved a 21% compliance increase. Participation remained stagnant. A different plan was needed to get the drivers' attention. They weren't understanding the potential consequences of their actions. Several managers and drivers had not dedicated themselves to improving safety training. Those perceptions changed when Bob showed up at the terminal in Salinas, CA.
James and Bob had discussed a variety of ways to solve both the safety and VEDR issues. They agreed that Bob traveling from Kentucky California would send a powerful message. Turns out it was the right move.
Upon Bob's arrival, James introduced him to the team. Most drivers and managers had previously spoken to Bob on the phone or exchanged emails, but had never met him in person.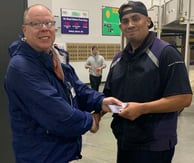 During his visit, Bob was fascinated when one driver, Jose, returned to the terminal so that he could load his truck for a second daily run. The driver had made 200 stops before returning to the terminal in the afternoon. He finished his day only after completing 290 total stops. Not surprisingly, the same driver had completed all of his ongoing safety lessons. Plus, he had limited VEDR violations. Bob knew there was hope for the rest of the team. Jose was evidence that safety and productivity are equally important. They're not mutually exclusive.
Over the course of the week, Bob met with each driver to discuss their VEDR incidents. He also addressed their lack of completing the ongoing safety lessons.
James paying for Bob to travel from Kentucky to California amazed the drivers. They immediately understood the significance of safety training. Sheban's investment in airfare, hotel accommodations, and fees showed that he meant business. Drivers completing their safety lessons was not simply about lowering the company's indemnification from $10,000 to $2,000. James truly wanted to ensure his drivers arrived home safely every night.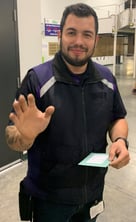 Completing the safety lessons was the first priority. Bob ensured each driver understood the overall purpose and objectives of the eTruck Safety Program. Then, he made sure drivers understood there were consequences for not completing their lessons on a timely basis.
The second matter and the one which prompted the in-person visit was the VEDR audit. Sheban's VEDR system had been installed by Lytx and connected to their program's system. The hardware worked as it was designed to do. Lack of follow up and coaching were lacking. Bob worked with James' team making sure they understood their responsibilities. A four-step process was implemented as follows:
Bob coached the drivers individually.
He documented the coaching sessions in both the eTruckbiz and Lytx systems.
He sent emails informing Sheban about the sessions.
Bob taught the BC's how to replicate the process after his departure.
Sheban's company is now in compliance with FXG rules. The contract standard includes Key Indicators as set forth in Schedule I that must be met in order to maintain a contract in good standing. The KI's are as follows:
1. The VEDR technology in each unit is connected and transmitting data (which includes ensuring the camera lens is pointed in the correct direction and free from obstruction).
2. Upon receiving a triggering event video from the vendor review center for follow-up, the service provider associates an operator to the triggering event video.
3. Once an operator is associated with a triggering event video, the service provider verifies with the vendor within four days that training of the operator occurred.
4. The vendor determines that the training was effective if the operator does not have a repeat event within 60 days of training.
Following up with drivers on triggering events is critically important to the success of a VEDR coaching program.
Prior to Bob's arrival, he and James had brainstormed ways to improve drivers' safety scores and reduce VEDR events. After considering numerous plans and suggestions, James decided to pay bonuses of $25.00 per week to drivers who completed 100% of their weekly safety lessons.
James asked Bob to assist in handing out bonus checks. More than $2,300 was spread among twenty-one drivers at the weekly group safety meeting. This gesture motivated the other drivers who had cared to complete the lessons to finish theirs, too. Most finished their lessons in time to receive extra cash at Christmas time.
Today, Bob receives notices of VEDR violations. Now, when he calls, texts or emails drivers they remember him and know what will happen when incidents are reported. Thankfully, the number of incidents has significantly decreased.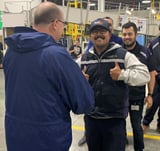 Plus, James has a solid plan as well as an accountability factor on his side. If Bob observes behaviors that aren't part of the plan, he assesses the situation, and works with the local managers to correct errant behaviors.
As of this writing, the team's ongoing safety compliance has increased to 87% which is positively higher than before, and a sign that drivers will continue arriving home nightly to the families who love them.