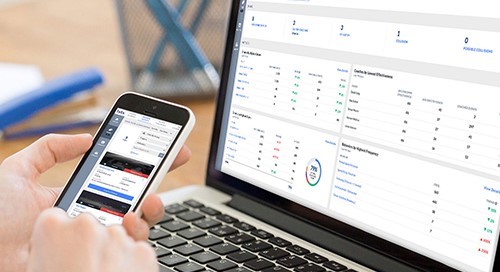 Image by Lytx
This blog post is written by our friends at Lytx.
Why are KIs important to your business? We explain everything, from the metrics that matter the most to KI fleet management tips.
Keeping track of fleet management metrics is necessary in order to make objective decisions and improve performance over time. Tracking KIs is an important aspect of measuring efficiency and productivity and is integral to identifying problems and making corrections. Safety KIs, in particular, are essential to keeping your fleet running at optimum levels while ensuring minimal risk.
What are Key Indicators?
KIs are metrics that help gauge progress towards intended goals. KI safety metrics measure how well your drivers and vehicles perform.
The most popular methods of calculating KIs involve using a formula to record events based on either frequency or incident rate:
Frequency Rate – The number of events over a given period, divided by the number of hours worked.

Incident Rate – The number of events over a given period, divided by the number of employees.
Collating safety performance metrics can sometimes feel like an overwhelming task. However, modern-day fleet management dashboards allow admins to generate KI reports based on virtually any variable.
Why Measuring KIs is Important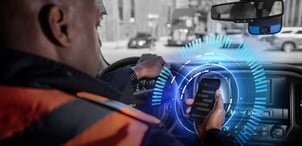 The beauty of KI data is that it is objective, quantitative, and does not allow for accidental bias towards any particular person, asset, or mode of operation. Keeping track of fleet utilization metrics creates clear and concise data that you can use to assess the overall performance of a fleet and identify areas that could use operational improvements based on historical and real-time data.
Fleet managers can then use this information to develop improved plans for training, maintenance, and compliance.
What are the Most Important Safety and VEDR (video event data recorder) KIs?
Which specific KI you track will depend on your business type. For example, the goals for a long-haul trucking company might be different from those of a field services fleet. A good starting point is to determine what you want to improve. Then, develop a strategy based on those metrics.
When it comes to safety, KIs like these should be top of your list:
Number of Incidents & Accidents - incident management KIs are vital for monitoring fleet safety

Near Misses - data about near misses provide insights that predict potential accidents and help you to prevent them

Driver Training - measurable metrics that help determine training needs include the number of training hours, retention of training information, and the frequency of incidents

Driver Safety - tracking safety performance indicators and detection of risky driving behavior helps you find areas that need improvement before problems occur

Hours of Service (HOS) - fleets subject to HOS regulations must track total hours spent driving, number of rest periods, time spent resting, hours driven between rests, and number of consecutive days of driving

Vehicle Inspections - tracking insights from inspections help you build a vehicle maintenance plan that keeps your fleet in optimal condition
KIs that are designed to help focus your efforts on the drivers and behaviors that need your attention most may include:
Overdue for coaching - must not exceed 20% of uncoached tasks within 8 days

Overdue for download - should not show more than 10% of vehicles that are overdue for download (or check in) within 4 days

Unassigned driver - keep your unassigned driver events under 15% by assigning drivers to vehicles before events might happen

Coaching impact - measures coaching impact by reducing the number of repeatable events triggered by your drivers over time
It's important to have an efficient system and process in place to accurately track these KIs and know when to make changes to your program.
How to Track KIs
Once you've decided what to measure, set targets and decide how to assess your fleet's performance in a realistic way. For the best success, you should communicate strategies to your team. Once you've established your plan, you can measure progress through access to real-time data. Luckily, with today's advanced fleet management technology, tracking KIs in real-time is easier than ever.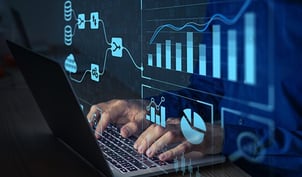 Editor's Note: Monitoring, coaching and tracking are all important parts of P&D and Linehaul VEDR solutions. Feel free to contact eTruckbiz for more information.
What to look for in the right VEDR partner
A true VEDR partner will provide you with more than just a video solution, they will offer a world-class driver safety program that produces results by changing driver behavior, preventing collisions, and improving your bottom line. For example, VEDR safety solution provider, Lytx has seen clients reduce their collisions by as much as 50% and claims costs by up to 80%. That means that your drivers are protected – and so is your bottom line.
In addition to innovative technology, great customer service is paramount. The best safety program provides comprehensive service by a team of customer success professionals who are dedicated to your needs. Giving you access to a team who understands the challenges you face and is ready to help you and your drivers succeed.
About Lytx:
Lytx® is an approved FedEx VEDR safety solution provider and the leading provider of video telematics, analytics, safety, and productivity solutions for commercial, public sector, and field services fleets. Using the world's largest driving database of its kind, along with proprietary machine vision and artificial intelligence technology, we help protect and connect thousands of fleets and more than 1.3 million drivers worldwide.
If you'd like to learn more about how Lytx can help you stay compliant with portable or permanent VEDRs, cut collision costs, protect your drivers, and improve your bottom line, contact us today at fedexsales@lytx.com or visit us at lytx.com/fedex.