Image by Dave Bowen
If you missed the "Maximizing Your Linehaul Potential" event held in Kansas City, here's a brief recap of the day.
We and one of our strategically aligned partners, Rolling Equity Leasing (REL), hosted a daylong seminar examining FedEx Ground Linehaul Contracting. The presenters swiftly covered much ground. Much has changed from the old linehaul ways and more changes are on the way.
After quick introductions, the first presentation and following discussion predominantly impacted newcomers to linehaul contracting. Topics included subjects to focus on when starting, successful business habits, and thriving in a challenging market.
Attendees who were unfamiliar with linehaul contracting found the session most informative and compelling. The experienced linehaul contractors in attendance added personal stories and colorful background.
The first session was followed by an in depth look at the Points System used in Linehaul Contracting. For those unaware with how points are determined, the methodology involves awarding or deducting points based on a variety of factors. Factors may include accidents, breakdowns, and service delivery failures that result in deductions. Alternatively, points are awarded based on successful runs, availability of equipment and favorable outcomes.
The next topic involved business reporting. While the topic seems mundane at first glance, breaking down revenues and expenses on a per mile basis in a digestible format is a crucial part of profitability. Profitability affords opportunities for awarding bonuses, pay increases, vacations, benefits and more lively subjects.
Contractors who stay on top of their wages, fuel and preventative maintenance are the ones who will be awarded the most points. And speaking of preventative maintenance, that was the next topic of the day.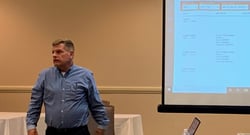 One of the many advantages to working with REL is access to their robust preventative maintenance and tractor safety programs. They discussed 24/7 breakdown support, fleet health monitoring, and maximizing uptime by making repairs early. Having a trusted partner is crucial when tractors are continuously on the road.
The next big topic was the industry outlook for 2022. It's no surprise that commodities remain in short supply, employment is lagging and the threat of inflation looms large.
Freight activity will continue in great demand, but will be hampered by limited supplies of both drivers and trucks. The strong demand and backlog of parts has created a surge in orders that's affecting pricing and availability. Additionally, used truck pricing will continue at above market price averages, too.
The afternoon sessions included discussions about leasing vs buying new trucks as well as technology available for linehaul drivers including safety and tracking software. Our friends at Lytx shared their upcoming plans for 2022 and how their safety devices keep drivers out of harm's way.
The day ended with socializing and networking among contractors from around the U.S. Most attendees left with giveaways, and all left with more knowledge about the industry than when they arrived.
We're looking forward to hosting more of these events next year. Join us!