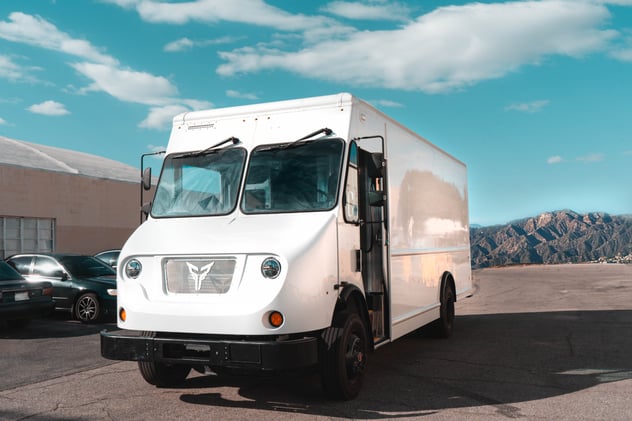 Image by Xos Trucks
This blog post is written by our friends at Xos Trucks.
The passenger transportation sector has seen a significant uptick in Electric Vehicle (EV) adoption over the last several years, yet the commercial side has been slower to follow.
Now, that's changing. Increasing environmental regulations and a growing interest in reducing costs have begun to tip the scales toward more widespread fleet electrification.
As a fleet owner and operator, you might be asking yourself, "When, how, and why should I consider electric trucks for my business?" Unfortunately, there's no simple, one-size-fits-all answer to "how" you should go about transitioning to electric, but "when" and "why" you should go electric can be more easily summarized.
Going electric can positively impact the efficiency and profitability of your business. Here's a summary of the main reasons why you should consider electrifying your fleet.
1. Get Ahead of the Trend
Sometimes, being an early adopter of new technology means you're taking a risk. But in the case of fleet electrification, you're simply getting ahead of an inevitable industry-wide change. Transitioning your fleet to electric means that you can master your new fleet technology sooner before it becomes mandatory. Potentially, this means you can get ahead of the competition who may wait until the last minute to transition their fleets.
2. Avoid Increasing Fuel Costs
Diesel prices have been steadily rising over the years. When you own just one diesel vehicle, you might not notice much difference in costs over time. But when your business operates a fleet of several or hundreds of vehicles, diesel costs can take a serious bite out of your bottom line.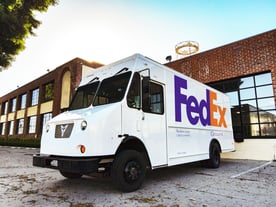 Although you can't avoid the upfront cost associated with the purchase of commercial EVs, you can offset the price with clean energy subsidies and discounts available through many different federal, state, and local programs.
Charging your electric vehicles is another cost to consider. But you can mitigate how much you spend on energy with strategic charging during off-peak hours and optimizing how you tie into the local grid.
3. Improve Employee Health
If your fleet consists of all-electric vehicles, you're helping improve the air in your local community. Beyond that, your drivers will no longer be exposed to pollutants within the cabin or deal with the noise pollution associated with internal combustion engines.
4. Enjoy More Vehicle Reliability
Electric vehicles tend to break down less when compared to internal combustion engine vehicles, which means drivers experience fewer issues out in the field. In addition, there are fewer parts in an EV, which means there is an overall reduced risk of failure.
5. Improve Your Company's Reputation
Both consumers and employees are more conscious of a company's values and ethics in the greater context of society. Moving to a fully electric fleet can help protect your reputation and improve your brand loyalty. Plus, strong company values can help retain employees as well. Employees who feel their values align with their company's values are less likely to leave.
6. Comply with Environmental Regulations and Improve Local Air Quality
As mentioned earlier, electric vehicles are emission-free, which can positively impact the quality of the air in your immediate service area. This is especially important for last-mile deliveries, which tend to result in longer idling times. In a traditional diesel vehicle, idling time wastes fuel while emitting pollutants.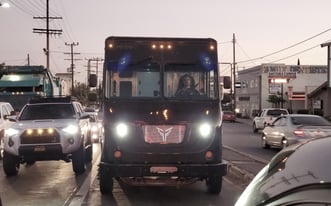 In contrast, EVs are ideal for stop-and-go driving and can conserve energy while complying with new anti-idling laws popping up around the country.
The transportation industry accounts for around a third of all carbon emissions in the U.S. With that said, commercial vehicle operators and owners can immediately make an impact by going electric.
7. Ideal for Return-to-Base Routes
One of the most significant barriers to EV adoption is range anxiety. But today's commercial EVs are designed to last around 150 to 200 miles, depending on the vehicle's specific battery capacity. Moreover, most last-mile delivery routes are well within that mileage, so drivers don't have to worry about running out of power on the road. This is also advantageous for productivity tracking and scheduling.
8. Take Advantage of Subsidies and Tax Write-offs
Local cities, governments, and states are offering financial incentives to decrease the cost of buying or leasing commercial electric vehicles. But, these incentives won't last forever, so it's essential to take advantage of them sooner rather than later.
Other Considerations for Going Electric
Electric commercial vehicles are a smart way to improve the prospects of your business, but many other factors can influence a company's ability to go electric. For example, you'll need to determine where you'll charge your electric vehicles when you get them to your depot or headquarters. You'll also need to build out permanent charging infrastructure in addition to getting a stop-gap solution in the meantime.
Electric vehicles and the technology powering them are getting better and cheaper by the day. As a result, the transportation industry is ripe for change, and fleet electrification can be a boon for businesses with the right strategy and planning.
About Xos
Xos Trucks is an OEM dedicated to decarbonizing transportation with reliable electric vehicles, powertrains, and the tools to power them. Xos produces reliable Class 5-8 last-mile electric vehicles and offers support services to help streamline the fleet electrification process.
Our products and vehicles are purpose-built for the commercial space and in use by customers like UPS, FedEx ISPs, Loomis, and more.