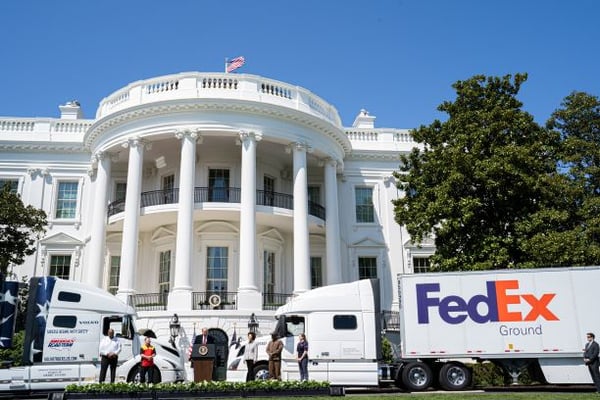 Do you feel like you're in a thankless job? If so, you're not alone. Most FedEx Ground CSP's can provide daily evidence to support that conclusion. You work daily ensuring that packages are delivered (and picked up) safely to and from the correct addresses. Many times, you do this based on information that leaves something to be desired.
That's why last week's ceremony in front of the White House was so extraordinary. The President of the United States spent a few minutes recognizing truckers including a FedEx Ground Contractor.
No one would have faulted the President for skipping the occasion. He could've easily delegated it the Secretary of Transportation. This would be acceptable even during "normal" times when the President maintains a full daily agenda. The Leader of the Free World recognizing something seemingly mundane signifies the critical roles of transportation and delivery companies.
The President spoke the truth when he said, "At a time of widespread shutdowns, truck drivers form the lifeblood of our economy — and the absolute lifeblood."
"Their routes connect every farm, hospital, manufacturer, business, and community in the country. In the war against the virus, American truckers are the foot soldiers who are really carrying us to victory. And they are. They've done an incredible job."
Elaine Chao, the Secretary of Transportation, also addressed the attendees by saying, "The whole country is cheering you on. Without you, it would be impossible to keep our economy moving and get food, medical equipment, and essential supplies to where they need to be. We are so grateful for what you do."

Understanding that you're doing something that matters becomes more important than bragging about a cool job. Delivering packages matters. Keep this in mind when you're recruiting drivers. In fact, you may want to save the press release to use in recruiting materials.

The person chosen to represent FedEx Ground at the ceremony states in an article for Trucking Moves America Forward as saying, "Over our career at FedEx Ground, we have logged nearly 4 million safe driving miles as a team." Tina Peterson and her husband, Dave, contract with FXG in Minnesota. Plus, she mentions safety in three answers of the four questions she's asked. She understands that her occupation is more than just getting the job done.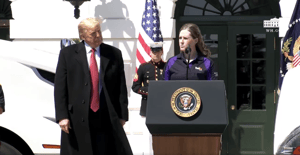 She remarked at the White House, "We recognize and appreciate the unique position we are in, helping to deliver aid and keep the economy moving during this challenging time. The delivery drivers bringing packages to doors have been sharing photos of thank-you letters, notes, cards, and sidewalk chalk messages telling us, 'Thank you for still working,' thanking drivers for delivering what their families need right now."
While the ceremony was brief, it was an important moment. It confirmed what you already know deep inside. Being a superstar athlete or entertainer are dream worthy, but not realistic for most people and arguably not fulfilling. As adults, we understand that many days are mundane and we'll never be "famous" for what we do, but that's okay. Knowing that we're keeping our economy moving matters.
Remember that brightening someone's day when they receive a package matters. And doing our jobs safely and responsibly matters. Thank your drivers.
Finally, it matters when our leaders, our communities, and our customers say, "Thank you."