An Extra Set of Eyes
Dustin Franz bought an RPS route twenty years ago in Pasco, WA. Today, he's a successful FXG contractor with multiple routes. He's traveled an interesting path to profitability.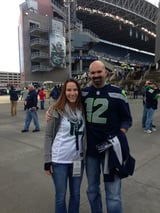 Buying a route was his first time owning a business. Much of how he learned to deliver packages came from his own experiences plus talking to contractors in his terminal.
Others taught him what they had learned from their own mistakes, and they really couldn't teach him how to be more profitable any faster. It was no fault of their own. They hadn't been trained themselves.
Dustin performed some online research and determined he needed outside assistance.
The Harvard Business Review conducted a survey of leading business coaches in the U.S. and determined a few interesting statistics. The top 3 reasons business owners engage coaches are:
to develop high potentials (48%)

act as a sounding board (26%)

address derailing behavior (12%)
Dustin landed in the second category because he wanted an extra set of eyes who'd also act as a sounding board.
So, how do you know if a coach can help you? The answer is up to you, and here are some questions to help you decide:
Are you the clear contractor of choice in your area? If not, do you want to be?

Do you struggle with driver retention and/or recruiting?

Were you as profitable in 2019 as you could've been?

Are your drivers more, or less, productive than national averages compared to those driving similar miles and routes?
What to Look For in a Coach
Business owners who benefit the most from coaching have a fierce desire to learn and grow. They also must have the right chemistry with their coach.
Many CSP's have sought out coaches within the last couple of years because of the changing landscape in the industry. Consider the following announcements over the past year, or two:
conversion to ISP

Qualified Driver Safety Training

SmartPost

DRO

VEDR KI's

Financial Health Assessments
And change will continue. Competition for the "last mile" delivery dollar in e-commerce will only accelerate the need to grow and expand operations.
Dustin's original goal was owning two trucks. One for himself and another for his younger brother. When it came time to "grow or go," Dustin decided to stay in the business. He knew then that he needed help from outside his own terminal.
Fortunately, Dustin found a coach with the right chemistry who could expedite his growth. It wasn't a decision he made lightly, and for him it's been a valuable investment in his own business.
Here are the most important factors business owners should investigate when looking for a coach.
Experience coaching in similar settings

Clear methodology

Quality of client list

Ability to measure ROI
If you're thinking about investing in a business coach, it's best to find someone who understands your industry from a different angle. No coach can tell you more about your own company than you already know. The key to success is finding someone who thoroughly understands best practices, can translate them to your situation, then help implement them. It's not about what you're doing wrong as much as it is about knowing how good you should be and how much you can achieve.
To read more about Dustin's successes, click below, then scroll down the page where you're directed.
---